02 Oct

TimeLinx PSA
Delivering projects is more than just managing tasks and resources. It's also about improving revenues, controlling costs, and creating profits.
Only TimeLinx PSA puts you in control of service delivery while controlling costs and profitability in real time. All in one fully integrated system. You get transparency, access and control across your entire customer lifecycle from lead management to project delivery.
TimeLinx Software applications connect departments and break down information silos. Through TimeLinx PSA, you manage all aspects of your service delivery. You use it daily to make your work and staff more productive and profitable. Manage projects, tasks, resources, time entry, expenses, scheduling, tickets, and issues – doing all that with a special focus on optimizing financial returns. That's TimeLinx PSA.
Our CRM Project Management software performs time and expense tracking as well as real-time analysis and reporting for managers across your organization — marketing, sales, service delivery, and finance/accounting. It captures not only hours worked, but calculates the associated "dollars" that help make your business profitable — revenues, profits, costs, margins and more. With TimeLinx PSA, you don't simply manage the work, you manage the dollars (or Euros, Dirhams, etc.).
Managing your business with multiple disconnected applications such as web apps, custom databases and spreadsheets costs your business money and time due to the lack of a full, 360-degree view of your service operations. Eliminate the overhead burden your business pays by not having a fully integrated system. With TimeLinx PSA, your sales, service, support and financial applications all work together to maximize customer satisfaction and business profitability.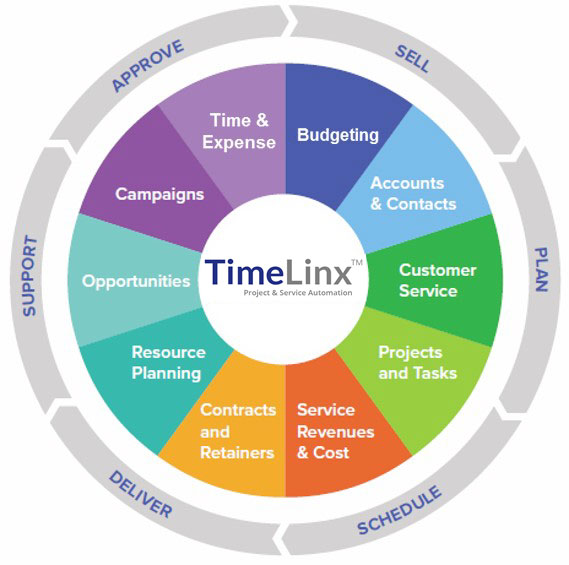 With TimeLinx PSA inside your CRM system, you manage your entire customer lifecycle:
Run the Campaigns.
Get the Leads.
Quote the work.
Forecast the opportunity and win the deal.
Manage, track and deliver accurate, profitable work.
Provide best-of-class customer service and technical support.
Get paid.
Keep nurturing the relationship.
You track and manage the complete life cycle of the relationship! A complete lifecycle includes getting paid, so TimeLinx PSA can automatically push all the computed revenues and costs into your billing, accounts receivable, payables, job cost, G/L and other modules of your chosen accounting system and then synchronize data back to TimeLinx.

TimeLinx PSA Core Features
A complete solution that has Project and Services Automation covered. Combining powerful CRM with every function a service organization could want eliminates the need for multiple applications and enables your service business to grow.
TimeLinx PSA provides "freedom of choice." Choose from cloud (SaaS), mobile, and web-based on-premise deployments.
Here are some of the great features and benefits you get with TimeLinx PSA:
Manage the work and the profits. TimeLinx PSA has extended the concept of what a Project Manager should do for a service organization allowing them to also manage the financial health of every project in real-time.
Expense entry is an integral part of the system that allows entry of out-of-pocet, contractor, and other expenses so the true cost of a project is tracked. From simple expenses like parking, to complex entries like mileage, and even in multiple currencies, TimeLinx PSA makes sure that it is all in the right project.
The TimeLinx Revenue Optimization Engine is a proprietary and unique approach to tracking all the contractual rules you have (or want to) put in place to maximize your revenue and profits. Rounding time up to quarter-hour increments – That's pretty common and pretty easy. But what about combining that with weekend or holiday rates, or time after 5pm, or a combination? We can do that automatically.
TimeLinx PSA helps you manage different teams regardless of geography. We do the heavy lifting with a combination of skill-set management, activity scheduling, and resource allocation, all in a single tool so that you don't lose track of what everyone is working on.
Our event system will alert you about all the important stuff: projects reaching a threshold, tasks falling behind, new work submitted, etc, so that your team can manage by exception. With TimeLinx PSA, simply pay attention to the important items and ignore the normal events.
Get smarter about invoicing by making the process accurate, efficient, and fast. The TimeLinx Revenue Optimization Engine, the TimeLinx Accounting Platform and integrated Time and Expense Approval system gets the job done. Bi-directional billing integration that can reduce work-to-cash collection to mere hours instead of weeks. With TimeLinx you'll have "maximized" invoices that are out the door accurately and on time, every time. Even customers will be happier!
Every bit of project detail captured in pre-sale activity can roll into the actual work project. In addition, selling costs (and expenses) can accrue to your project for job-costing so you know what it truly costs to gain a new customer or project. That data helps manage future sales efforts.